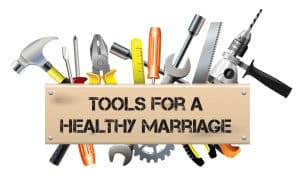 Session 2: "Use the Right Tools"
Wednesday, October 25, 2017 •
6:30 p.m.
God designed marriage and he helps us get it right. Join other couples in
a guided discussion about using the right, but often under-used, tools
God provides for building strong marriages- the Word of God and prayer.
Childcare is provided, but let us know if you need it.
Here's what participants Wally & Chris Jung have to say about
"Getting Marriage Right":
The class is based on God's Word and will for married couples. It is easy to be influenced by our culture and friends and get off base. The class helps us focus on improving communication with your spouse. It gets you thinking about the way you can better serve your spouse, and by doing so, serve God. It is also a great way to get to know other couples and benefit from sharing experiences (both positive and negative). We shared a few laughs, and learned a little bit more about ourselves and our spouse.
We highly recommend this class – see you there!
________________________________________________________________________
Believing that God has called us to "Go and make disciples of all nations" (Matthew 28:19), we at Shepherd of the Hills Lutheran Church will share God's Word through daily contacts and outreach to the Lansing, MI area and beyond, while providing a caring and nurturing atmosphere in which to learn more about our Savior and to better serve Him. (Want to learn more about Shepherd of the Hills Lutheran Church?
Call or email us
)
Christ's love, which he demonstrated by his perfect life and by his suffering and death on the cross, is the foundation for our relationship with God, the focus of our faith, and the motivation for all we do as Christians. In that same love for sinners Christ not only lived and died to set us free from sin and guilt, but he also rose again in victory on the first Easter Sunday, assuring us that his victory is our victory and that his resurrection is our resurrection. Saved by his grace alone, we look forward to his glorious return as we proclaim the good news of what his love has accomplished.
________________________________________________________________________
Shepherd of the Hills Evangelical Lutheran Church, Lansing, MI (WELS)