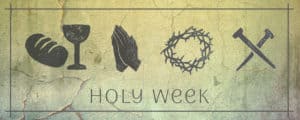 Wednesday of Holy Week is a quiet day. Jesus stays away from Jerusalem. The big event of this day is Judas, one of Jesus' own disciples, meeting with the religious leaders in Jerusalem to arrange for Jesus to be seized under the cover of darkness on Thursday evening. For this reason, this day has been called "Spy Wednesday."
In Matthew's gospel, he places this meeting after the account of Mary anointing Jesus in Bethany- an event that actually happened the night before Palm Sunday. Matthew intends to contrast Mary's actions with that of Judas. So in his account, Matthew 26:1-16, it goes like this:
1 When Jesus had finished saying all these things, he said to his disciples, 2 "As you know, the Passover is two days away– and the Son of Man will be handed over to be crucified." 3 Then the chief priests and the elders of the people assembled in the palace of the high priest, whose name was Caiaphas, 4 and they plotted to arrest Jesus in some sly way and kill him. 5 "But not during the Feast," they said, "or there may be a riot among the people." 6 While Jesus was in Bethany in the home of a man known as Simon the Leper, 7 a woman came to him with an alabaster jar of very expensive perfume, which she poured on his head as he was reclining at the table.
8 When the disciples saw this, they were indignant. "Why this waste?" they asked. 9 "This perfume could have been sold at a high price and the money given to the poor." 10 Aware of this, Jesus said to them, "Why are you bothering this woman? She has done a beautiful thing to me. 11 The poor you will always have with you, but you will not always have me. 12 When she poured this perfume on my body, she did it to prepare me for burial. 13 I tell you the truth, wherever this gospel is preached throughout the world, what she has done will also be told, in memory of her."
14 Then one of the Twelve– the one called Judas Iscariot– went to the chief priests 15 and asked, "What are you willing to give me if I hand him over to you?" So they counted out for him thirty silver coins. 16 From then on Judas watched for an opportunity to hand him over.
Mary got it. She understood that Jesus' purpose was to die for the sins of the world. That is why she honored him while she could, anointing his body with a perfume so expensive that it cost what a common laborer would make in a year, probably tens of thousands of dollars today. But Jesus was worth that much to her. For he was the sinless Son of God, willing to give up his life for a sinner like her, in order to give her the priceless blessings of being certain, through his sacrifice, that God loved her, that her sins were forgiven, that she was reconciled to God, that heaven was her home.
Judas got it too. He heard Jesus say that Mary had anointed him for his burial. Judas realized, maybe much more clearly than the other disciples, that Jesus was actually going to go through with what he had been talking about for weeks- letting himself be killed by the religious leaders in Jerusalem. So in that moment Judas made the decision to cut and run, to cash in while he still had the chance, to betray Jesus for what he could get out of it.
Money was really Judas' god. For in John's account of the anointing of Jesus in Bethany, it is Judas who objects to what Mary is doing, ranting about how that perfume could have been sold and the money given to the poor. John tells us that this objection was just a front, for the truth is that Judas had the habit of stealing money from the communal funds of the group. Judas was mad that night, not because the poor were being neglected, but because he was going to have less money to steal.
Wednesday of Holy Week, therefore, is a good day to ask ourselves, "What do I really value? Is Jesus my greatest treasure? Is he worth so much to me that I eagerly give him lavish love for his love for me, lavish thanks for my salvation, lavish worship for his grace, lavish obedience to his word, lavish offerings for his mission, lavish trust that he will take care of me? Or do my attitudes and actions often reveal that I love and trust what money can give me or do for me too much?"
Though Jesus knows what Judas is doing on Wednesday of Holy Week, Jesus washes Judas' feet the next night. He hosts Judas and the others disciples at the Passover meal that is meant to be enjoyed by those you consider your family. Jesus receives Judas' kiss of betrayal later that night. And the next day Jesus dies for Judas and his sins. That is what Judas was worth to Jesus.
That is what you are worth to Jesus too, despite the ways you have valued him too little. Remember that today. Rejoice in the value you have in Jesus' willing death for you, and in the value you have as a forgiven sinner today because of his death for you. And in all the opportunities to show how much you value him as your Savior today, let thankfulness and love guide your response.