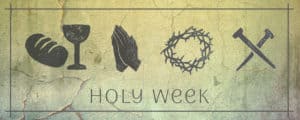 We call it Maundy Thursday. "Maundy" means "command" and comes from the words of Jesus: "A new command I give to you, that you love one another: just as I have loved you, you also are to love one another" (John 13:34). By the next day, the disciples would see in Jesus a higher standard of love than the old commandment offered, "Love your neighbor as yourself." (Leviticus 19:18)
Maundy Thursday shows us the faithful love of God in contrast to the failing love of man. This is the day of the Passover celebration- that religious festival that commemorated that great act of merciful deliverance when the Lord delivered his people from slavery in Egypt and spared them from death on that night when all the firstborn in Egypt perished. The blood of an innocent lamb on the doorposts of their homes had saved their ancestors. Now it was time for the blood of the innocent Lamb of God to save all mankind.
So Jesus shares the Passover meal with his disciples. God intended the Passover meal to be eaten with one's family. Here we see the faithful love of Jesus. He considers these men his family. He knows (and actually says so this night) that Judas is betraying him, that Peter will deny him, and that the rest of the disciples will abandon him. Yet Jesus hosts them for this meal. He washes their dirty feet before the meal, performing servant work for them knowing that, before the night is over, they will be arguing over who will be the greatest when Jesus rises to power as the earthly king they hope he will be. He gives them his own body and blood as he institutes the Lord's Supper, knowing that, later that night when he is arrested, they will flee into the shadows to save their own skin. He remains committed to his Father's will to die for them even in the agony of Gethsemane, while they show the depth of their commitment to Jesus there by taking a nap when he asks them to watch and pray with him.
Jesus has a lot to say to them that night (John 14-16). I recommend you read it. If I were Jesus, I would have been able to think only of myself and what I was about to endure. My mood would have been self-pitying. But Jesus is thinking about his disciples' needs. They have no idea what heartache, grief, fear, and doubt is waiting for them beginning this night. But Jesus knows what they will need, as he is aware of your needs even before you are and always gives you what you need. So in faithful love, he gives them words of comfort to get them through the next difficult days:
John 14:1-3 Do not let your hearts be troubled. Trust in God; trust also in me. In my Father's house are many rooms; if it were not so, I would have told you. I am going there to prepare a place for you. And if I go and prepare a place for you, I will come back and take you to be with me that you also may be where I am.
John 14:18-20 I will not leave you as orphans; I will come to you. Before long, the world will not see me anymore, but you will see me. Because I live, you also will live. On that day you will realize that I am in my Father, and you are in me, and I am in you.
John 14:27 Peace I leave with you; my peace I give you. I do not give to you as the world gives. Do not let your hearts be troubled and do not be afraid.
John 16:22 Now is your time of grief, but I will see you again and you will rejoice, and no one will take away your joy.
John 16:33 "I have told you these things, so that in me you may have peace. In this world you will have trouble. But take heart! I have overcome the world."
More than that, in faithful love he gives them his body and his blood ("poured out for many for the forgiveness of sins"- Matt. 26:28), so that the guilt of their failure to show committed love to Jesus this night does not drive them to despair. It's why he gives his body and blood to us too. He knows our love for him often falters and fails in the most shameful ways, just as the disciples' love did that night. But in faithful love he keeps coming to us in his supper to assure that his love, his mercy, and his forgiveness are unfailing.
One more thing, Jesus spells out for them this night how the world will hate them as much as it hates him, and he goes into specifics about how they will be persecuted by people who think killing them is doing God a favor. (John 15:18-16:4) "All this I have told you so that you will not go astray," Jesus explains (John 16:1) How we need to hear those words. It is tempting to go astray, to dismiss those teachings of Jesus that are unpopular in our culture, or to live a covert Christian life so we can avoid being potential targets of ridicule or hate for Jesus' sake. But distancing ourselves from Jesus and his truth is not the answer. This is: "If a man remains in me and I in him, he will bear much fruit. If you remain in me, and my words remain in you, ask whatever you wish and it will be given to you. This is to my Father's glory, that you bear much fruit, showing yourselves to be my disciples. " (John 15:5,8)
Remain in the Savior whose love remains faithful even when ours falters and fails. Assured of his love and forgiveness over and over in his gospel in word and sacrament, you and I will find always find the comfort and strength we need to keep following him and bearing our crosses on the path he has blazed to eternal glory.