I ran across this website when I was looking for marriage enrichment material to share with you all. I have added some of my remarks in blue print. I will send one of Steve and Vickie's practical tips for marriage enrichment each week or two. I hope and pray that you find their practices beneficial and put them into practice yourself! In Christ, Pastor Burger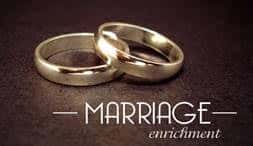 Practical Tips for Marriage Enrichment Steve and Vickie Hall Adapted from: http://www.aboundingjoy.com/marriagetips.htm
Steve and Vickie say, "There is nothing we love more than being alone together.
We genuinely enjoy each other's company." What follows is a list of the specific perspectives and behaviors they choose that deepen their loving relationship, reminding us that love is much more an act of will than it is feeling, and that loving actions lead to deeper loving feelings.
We treat each other with the utmost respect.
We never just "order each other around," in public or private. If we ask the other to do a favor for us, it is always accompanied by the words "Please" or "Would you please?" We try to be very "tuned in" to when the other does something for us—even if it seems like a small thing. And you will hear us frequently say, "Thank you so much!" to each other. It is never ok, in public or private, to be crude or rude to each other.
We also try very hard to never tease each other in a hurtful way. We have seen many couples say words to each other that are uncomplimentary or that "sting" a little (or even a lot!). Then the spouse will say, "He (or she) knows I'm kidding." We believe that these little stinging words that make fun of one's spouse are harmful to a close personal relationship.
Steve and Vickie make a conscious effort to simply treat each other with respect, politeness, and sensitivity. The interesting thing is that we may treat people at work or in other settings that way, but fail to do that with our spouses. Whatever excuses we have for that, they are not justifiable. Colossians 3:12 applies to all our relationships, and especially to marriage: "As God's chosen people, holy and dearly loved, clothe yourselves with compassion, kindness, humility, gentleness and patience."
Work this week and next at simply being kind and thankful toward your spouse in your attitude, words, and actions.