________________________________________________________________________
WHAT WE BELIEVE
Christ's love, which he demonstrated by his perfect life and by his suffering and death on the cross, is the foundation for our relationship with God, the focus of our faith, and the motivation for all we do as Christians. In that same love for sinners Christ not only lived and died to set us free from sin and guilt, but he also rose again in victory on the first Easter Sunday, assuring us that his victory is our victory and that his resurrection is our resurrection. Saved by his grace alone, we look forward to his glorious return as we proclaim the good news of what his love has accomplished.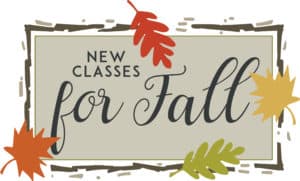 9:15 a.m.
(Starting Sept. 9)
BLIND SPOTS: Idols We Don't Realize We Have
It is easy to be influenced by our culture, often in ways that work against our faith and Christian life, often without even being aware of it. In this study we will look at some common "blind spots" in our lives, where we may be trusting or loving certain things more than God, and more than we realize. A great class for all of us!
7:00 p.m.
(Starting Sept. 25)
A great class for those who have never studied the Bible, for anyone with questions about the Bible's relevance today, or for anyone who would like to review the basic teachings of the Bible. Invite an unchurched friend and join them!
7:00 p.m.
(Starting Sept. 12 )
THE TIME BETWEEN THE TESTAMENTS
The last book of the Old Testament was written in 400 B.C.
What happened in those 400 years before Christ? What is the message of the "apocryphal" books written between the Old and New Testament? Why don't we consider these books to be
inspired by God? Join us for this informative study!
9:00 a.m.
(Starting Sept. 13)
They are called the "Minor Prophets," but only because the books they wrote are shorter than the books written by other prophets. In these three brief books we will be inspired by the certainty that Jesus Christ will protect and guide his people, and use us, despite our reluctance, to share his saving word with others.
________________________________________________________________________
Shepherd of the Hills Evangelical Lutheran Church, Lansing, MI (WELS)